Leader: Dorota Zaleska (d.zaleska@embassyschool.org)
Brief description: Play with clay and decorate it with child- friendly, non- toxic underglazes. Once a month we will go to the Kaolin Studio, where children will have a chance to work on the potter's wheel. It will take two to three weeks to get the pieces ready. All the materials and firings included. Please bring a big, adult size used T-shirt to wear during the session.
Time: Wednesday 15:45 – 17:15
Age restrictions: Available to children from Year 4 up
Location: Project room in building C and Kaolin Studio in Kraków
---

Together with our artist in residence, Ms Dorota Zaleska, we will explore the magical world of clay. Ms Dorota studied ceramics and industrial design to a degree level and has worked with clay for over 15 years.
During our weekly meetings at the Embassy International School we will learn different hand-building techniques such as pinching, coiling, slab building, using plaster moulds and sculpting clay. Then we will add decoration using a variety of underglaze colours and oxides.
Once a month our Club will be visiting a small local pottery called Kaolin Studio. At the studio we will learn how to work on a potter's wheel and we will find out more about ceramics technology, including mixing, wedging and kneading of clay, loading and firing kilns and glazing techniques.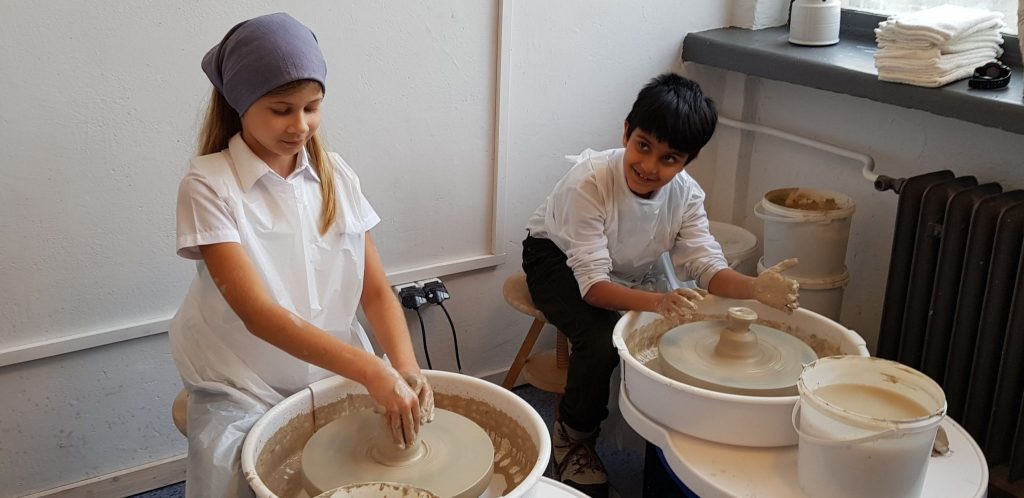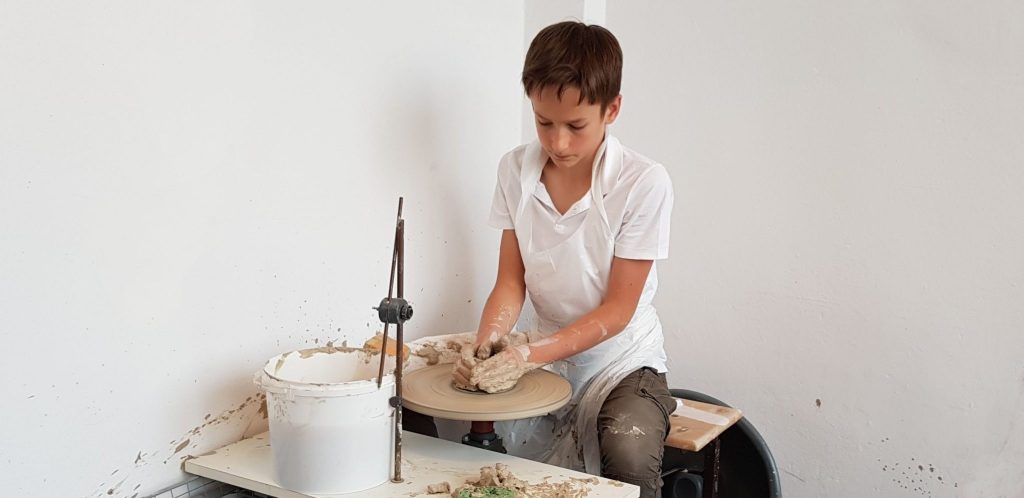 Here is a list of creative topics for the Autumn Term:
Introduction to clay tools, H&S in ceramics, creation of small pinched and coiled pots
Autumn leaves, using slab rolling and pressing techniques to create small functional bowls
Kiwi birds, clay sculptures – hand built, finished with oxides
Pottery visit – tour of Kaolin Studio, explanation of basic pottery processes, equipment and technology.
Glazing of pieces created at the Embassy International School
Name plaques, clay letters applied onto pre-rolled clay slabs
Halloween Monster mugs with handles, coiled functional pots of an own design
Remembrance poppies, inspired by an art Installation around Tower of London from 2014
Pottery visit – introduction to wheel throwing technique, finishing and glazing of pieces created at the school
Chameleons of Madagascar, clay sculptures – hand built, finished with colourful underglazes
Advent lanterns, joined ornamental clay slabs with a place for a tea light
Christmas tree ornaments created using all kinds of techniques
Pottery visit – throwing on the potter's wheel, finishing and glazing of pieces created at the school
Napkin rings, functional rings of own design inspired by seasons and family occasions to celebrate meals
Decorating of any unfinished pieces, own projects as it's our last meeting before Christmas
Ms Dorota with her ceramic poppies which were a part of Paul Cummins' art installation around Tower of London in 2014.