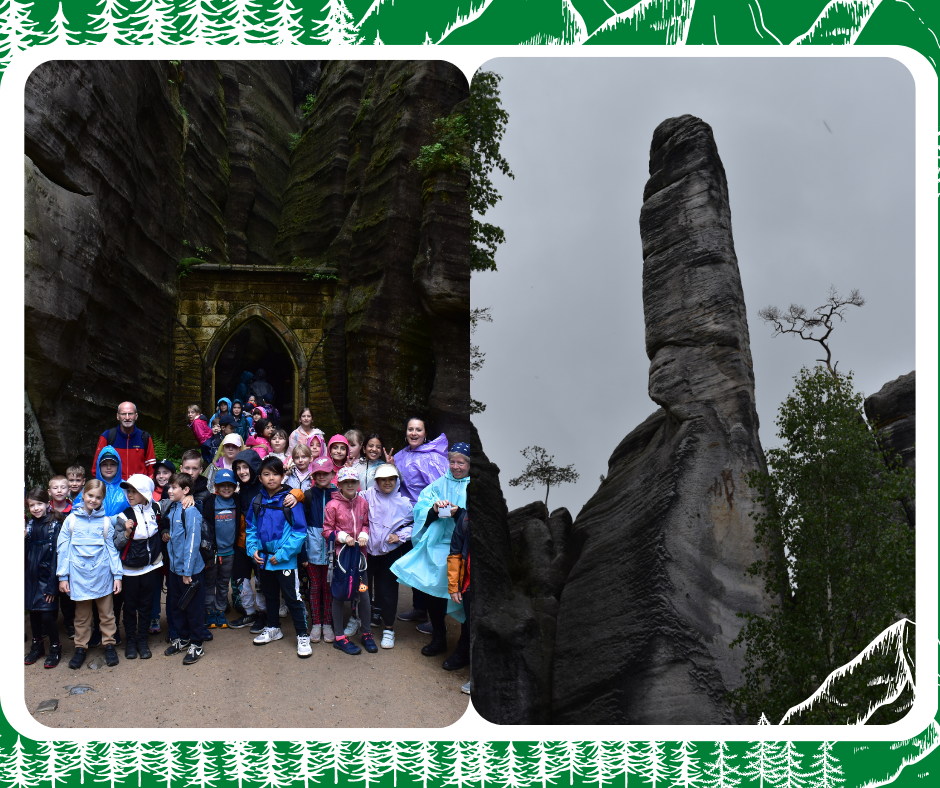 Big thank you for Miss Maria and our pupils for sharing and sending memories in every day dispatch from the Green Camp.
1st Day: we split into our camp activities groups to meet our camp counselor who gave the children a tour of the beautiful campgrounds. After that, it was finally time for our first activities! Children went off with their groups, teacher leaders and camp counselors. There were many activities happening at the same time; kayaking, volleyball, ultimate frisbee, inter-cross, world games, team sports and a game of flags. The children really had so much fun! After supper we changed into long trousers and jumpers to go to our first campfire where we roasted sausages, and marshmallows, sang songs while enjoying the lovely weather and each other's company.
2nd Day: At 10:00 Primary Pupils set off to our big hike in the Czech Republic. We boarded the bus for a 2 hour drive to the start of the hiking location called Narodni Pririodni Rezervace. The children were truly amazed by what they were seeing and asked many great questions of our guide. Then it was time for evening games! Primary pupils and Secondary students we divided up into mixed groups. Later the mixed groups played more fun integration games with camp counselors.
3rd Day: We learned some new sports for example dodge ball and inter-cross. Then we had time to go to the shop. We had playground free time and after that we had lunch. Secondary pupils went to Czech Republic on the bus and listened to great music on the way. Half way through the trip it started pouring rain. The camp provided a snack for our hike.
4th Day: We went on our trip to the coal mine. When we got there we went into the museum and discovered how coal was made over time even before the dinosaurs. We also saw fossils from as far back as the dinosaurs (80 million years ago!). After lunch, we played a game called Flags. That was fun. Then we went climbing- it was kind of hard but we really loved climbing as high as we could!
5th Day: Despite grey skies and occasional spurts of drizzling rain it was another full day of outdoor sports and activities. Primary pupils enjoyed kayaking, international games, team sports, and archery. Secondary students enjoyed ultimate frisbee, inter-cross, climbing, archery, works games and tchoukball, and a bike ride. As this is being written, Secondary students are enjoying the last half hour of their Disco Party. It has been a really wonderful week with many new friendships formed and small adventures and moments of bravery, resilience and joy. Many memories were made.
We left ok forward to seeing you all tomorrow and to a successful final month of school!