On Friday 28th October the whole school enjoyed our first ever Hallowe'en Party! The school was decorated form midweek with a variety of attractive and scary 'features', we had Jack o' Lanterns carved from pumpkins and on Friday we had a series of special and international lessons based around the theme of Hallowe'en.
After lunch Building A was turned into a party zone with a number of different 'stations' where we had special activities for the children. To mention just a few of our activities, we had a magic show, dancing, pin the nose on the pumkpin, roll the pumkpin, dunking for apples (also apples on a string, instead of donuts), Hallowe'en arts and crafts, a special chemistry show (with pops and smells and colours, and all kinds of scary things best not spoken about).
Building C was also a party zone, on a smaller scale, as we had smaller people partying and enjoying themed activites in nursery throughout the day.
This was a wonderful occasion for parents to join us in the school, and they made a massive and much appreciated contribution to the day with decorating and leading stations.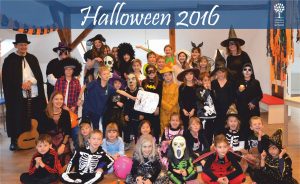 Photos can be seen in our gallery: Here